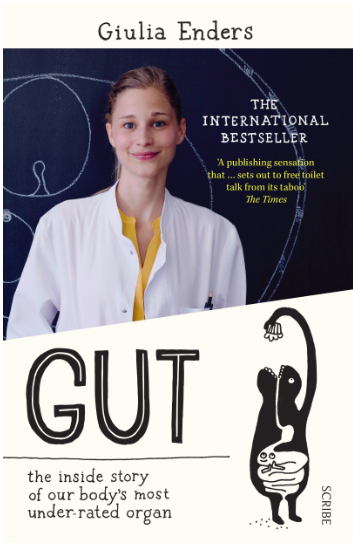 The key to living a happier, healthier life is inside us.
Our gut is almost as important to us as our brain or our heart, yet we know very little about how it works. In Gut, Giulia Enders shows that rather than the utilitarian and – let's be honest – somewhat embarrassing body part we imagine it to be, it is one of the most complex, important, and even miraculous parts of our anatomy. And scientists are only just discovering quite how much it has to offer; new research shows that gut bacteria can play a role in everything from obesity and allergies to Alzheimer's.
Beginning with the personal experience of illness that inspired her research, and going on to explain everything from the basics of nutrient absorption to the latest science linking bowel bacteria with depression, Enders has written an entertaining, informative health handbook. Gut definitely shows that we can all benefit from getting to know the wondrous world of our inner workings.
In this charming book, young scientist Giulia Enders takes us on a fascinating tour of our insides. Her message is simple – if we treat our gut well, it will treat us well in return. But how do we do that? And why do we need to? Find out in this surprising, and surprisingly funny, exploration of the least understood of our organs.
' Enders is utterly, charmingly obsessed with the gut, gut bacteria and poo. She writes and talks about her subject matter with such childlike enthusiasm it's infectious … The perfect toilet book.'
-Annalisa Barbieri, The Guardian
' Gut had me laughing aloud.'
-Debora Mackenzie, New Scientist
'This book was a revelation; I couldn't stop reading.'
-Danny Katz, The Saturday Age
You can purchase the book here on Amazon
Kfibre™ absorbs water as it moves from the stomach and retains it as it moves into and through the bowel picking up waste, acting like a brush helping to keep our bowels healthy. By taking Kfibre at least once a day, it should help make constipation a thing of the past! Always drink plenty of water when taking any high fibre food or supplement.
The Book Caffe team love this book and thought our readers would also like to know that team members have had great results in their own gut health by using Kfibre.
Unfortunately, many people struggle to reach their recommended daily intake of 25-30g of fibre per day. That's where Kfibre™ can help. Kfibre is :
One of the easiest fibres to include into your diet.
High in complex prebiotic fibre
High in insoluble fibre
High in phytonutrients and antioxidants
Supporting & balancing your probiotics
Kfibre™ Facts
Kfibre is a high nutrient fibre supplement.
Diets high in fibre have been shown to improve general well-being, digestive health and to alleviate bowel discomfort.
Kfibre™ is made with 100% natural sugarcane, however KFSU removes 95% of the sugar.
No chemicals used in its production.
Precautions
Please drink more liquids when taking Kfibre™.
As your body adjusts to increases in fibre you may experience altered bowel movements.
Improper or overuse may result in discomfort.
Never ingest or inhale the powder directly.
Do not use if tamper evident heat seal is not intact.
Do not use in case of medically induced constipation.
For more information, you can visit their website here: https://www.kfibre.com
Kfibre Facebook Page: https://www.facebook.com/Kfibre/